Indiana Vein Specialists in atGeist Newsletter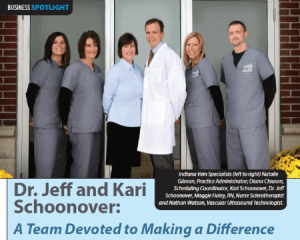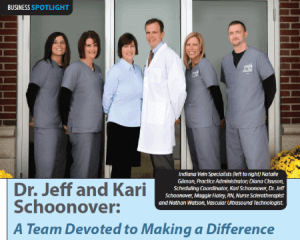 Dr. Jeff and Kari Schoonover featured in two community publications
Back in December Indiana Vein Specialists® peaked the interest of two local newsletters: atGeist and atCarmel. Both of the publications decided to run a piece on the practice, featuring Dr. Jeff and Kari Schoonover as the main focus of their articles. The piece explains some of the motivations behind Dr. Schoonover establishing Indiana Vein Specialists®, highlighting the desire of him and his wife to make a difference within the community by providing sufferers of varicose and spider veins with vein disease treatment.
Dr. Schoonover's passion for his work is clearly demonstrated in the article when he talked about his teenage years working for a local pharmacy, "Every time I delivered a prescription, I could see in a small way that my job made a difference and how much it meant to the people who were sick or just needed the scripts to maintain their health." His passion has since driven him to get his medical doctorate and start his own practice so that he could reach out to the community on his own terms.
Although the practice is relatively new it is being noticed due to the quality of service and treatment provided to its patients, as well as for the passion of its staff and leading physician. Everyone at Indiana Vein Specialists® appreciates how the treatment of varicose and spider veins allows them to make a positive difference in the lives of their patients.
The original article was featured on atGeist.