Jeffery P. Schoonover, MD, RPVI, DABVLM
"I think of myself as a man of faith, compassion, devotion to my family and commitment to my patients and community. It's been a great blessing to have opened and successfully grown both of our medical offices in Fishers and Carmel. One of the best parts of taking care of our patients is seeing the vast majority improve in a relatively short time frame. I love knowing that our patients are doing the things they love—whether that's getting out for a run or chasing after the kids or grandkids again."
Jeffery P. Schoonover, MD, RPVI, DABVLM is a Fellow of the American Vein and Lymphatic Society and Chief Medical Officer at Indiana Vein Specialists. He is committed to varicose vein disease treatment.
In 2008, Dr. Jeff Schoonover was one of the first physicians in the nation to be certified by the American Board of Phlebology. As a venous and lymphatic medicine specialist, he is dedicated to treating varicose vein disease and related disorders. Dr. Schoonover, together with his team at Indiana Vein Specialists®, is committed to minimally invasive treatment while caring for all patients with respect and compassion.
As a further demonstration of his commitment to quality care for patients, Dr. Schoonover is also Registered Physicians in Vascular Interpretation (RPVI), the highest standard in vascular ultrasound interpretation.
In 2021, Dr. Schoonover was awarded the designation of "Fellow" with the American Vein and Lymphatic Society (FAVLS), in recognition of his dedication to promote excellence, innovation, and improve the quality of venous and lymphatic care nationally. He is also an active board member of the Foundation for Venous and Lymphatic Disease, which supports the overall AVLS mission of advocacy, research, and education.
Prior to launching Indiana Vein Specialists®, Dr. Schoonover practiced vein disease treatment at one of the largest vein clinics in the nation. Earlier in his career, he practiced family medicine in Yorktown, Indiana and is board certified in Family Practice.
Military Service
He also served as a physician for four years in the United States Air Force, where he achieved the rank of Major.
Published Articles
Dr. Jeffery Schoonover was published in The Journal of Family Practice in October 2009 with his article, "3 Alternatives to Standard Varicose Vein Treatment." You can also read an article about Dr. Schoonover published in the June issue of Active Life Magazine.
In February 2020, Dr. Schoonover was featured by the American Vein and Lymphatic Society! You can read more about it here.
Personal/Community Interest
He resides in Hamilton County with his wife and two sons. They are an active family and you can often find them out for a walk or biking together. The Schoonover family is committed to the community and they enjoy being a locally owned and operated business in the greater Indianapolis area.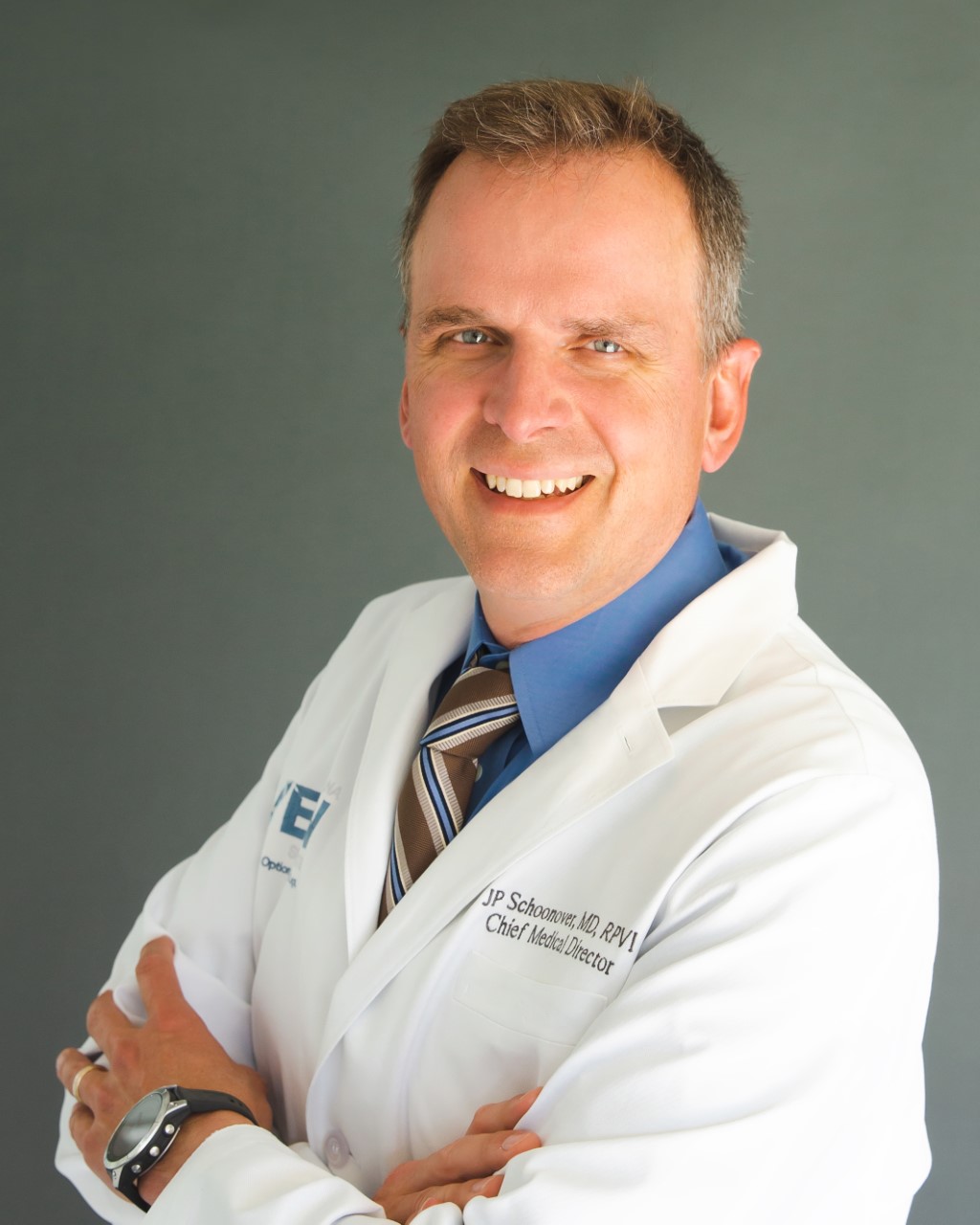 Credentials
MD, Medical Doctor
FAAFP, Fellow of American Academy of Family Physicians
RVT, Registered Vascular Technologist
RPVI, Registered Physician Vascular Interpretation
DABVLM, Diplomate, American Board of Venous and Lymphatic Medicine
FAVLS, Fellow, American Vein and Lymphatic Society
Affiliations
American Vein and Lymphatic Society
Indiana State Medical Association