What is Varithena® Treatment?
Varithena® is a foam sclerosant drug that we use to treat many forms of varicose veins. This treatment spent 14 years in development, showing safety and efficacy in clinical trials. The FDA approved the drug in 2013.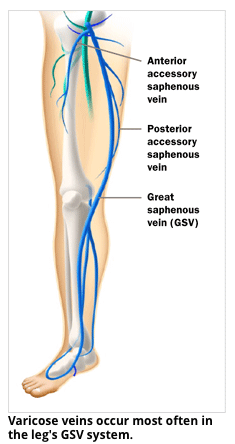 Our practice was the first to offer this procedure in the greater Indianapolis area. "Our clinical experience and the high quality of our ultrasound mapping are the primary reasons we are able to offer this treatment to selected patients as an alternative to other accepted methods of varicose vein treatment," said Dr. Jeffery P. Schoonover. "Endovenous chemical ablation with Varithena® allows for an additional minimally invasive treatment strategy in the management of chronic venous disease."
The FDA approved Varithena® to treat the often problematic great saphenous vein and accessory saphenous vein. It is also approved for visible varicose veins over 3 millimeters in diameter that feed these saphenous veins.
If you are interested in learning more about Varithena®, check out this great breakdown by Boston Scientific!
How Does It Work?
Varithena® works by injecting the micro-foam into the varicose vein. The micro-foam spreads evenly through the vein, causing it to spasm and shut down. After that, the bloodstream swiftly absorbs the foam solution once the vein closes.
First, we apply a local anesthetic and then place a tiny needle into the vein with ultrasound guidance. Then we inject Varithena® into the abnormal veins with ultrasound guidance. The drug then displaces the blood within the veins and causes them to seal shut. After that, the bad veins shrink and the body absorbs them over the next few months.
Varithena® treatment may require several sessions, depending on the severity of the varicose veins.
What Are the Benefits of Varithena®?
This procedure is minimally invasive, which means less discomfort during and after treatment, and a faster recovery. Patients can also walk right after the treatment, and can resume most of their normal activities the same day.
It also eliminates the risk of nerve injury by using micro-foam instead of heat to close abnormal veins.
Is Varithena® Right for Me?
Treatment of varicose veins is a complex process and every patient is unique. If you are suffering from varicose veins, you should schedule a consultation with us. Together we can come up with the best treatment plan for you.
You can fill out the form below, or call us at 317-348-3023. We can't wait to help you get the healthier legs you deserve.