Deep Vein Thrombosis Awareness Month: Special Offer on Compression Stockings
Dr. Schoonover Promotes Awareness of DVT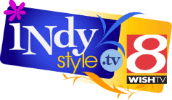 On Thursday, February 23rd Dr. Jeffery Schoonover spoke on IndyStyle to promote the fact that March is Deep Vein Thrombosis month. He explained what DVT is and how it can be treated, while highlighting the importance of using preventive measures such as compression stockings to help avoid the affliction all together.
Thrombophlebitis occurs when a clot forms within a vein, normally in the lower extremities, causing the veins to swell. It is dangerous and must be treated quickly, due to the possibility of an embolism. For more information read our articles on Deep Vein Thrombosis and Superficial Thrombophlebitis. This information will also help you determine if you are at risk and whether you need to set up a consultation with one of our vein specialists for treatment.
---
10% off Compression Stockings */**
*Cannot be applied to stockings covered by insurance or remaining deductibles
**See bottom for details on the length of the promotion
In order to help promote awareness for Deep Vein Thrombosis Indy Veins is proud to offer a special discount on all Sigvaris Compression Stockings. We choose to carry the Sigvaris brand because of the excellent comfort and support provided by their stockings. If you are at risk for DVT or have it and are looking for stylish and sturdy stockings, contact us to learn more about the products we offer.

Natalie Gilman, our practice administrator, is certified with Sigvaris for fitting vascular and custom compression garments. She is responsible for measuring, fitting, and educating patients regarding both the use of compression garments as well as their effects on vascular health. Her knowledge is an asset for anyone who needs to use stockings, whether for athletic or general health purposes. She will make sure you receive the proper size and style to suit your unique needs.
To set up an appointment for your fitting please schedule a consultation or call us at 317-348-3023.
---
Not Your Granny's Stockings: Stylish and Functional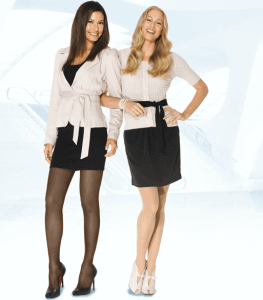 With several choices in styles and functions, Sigvaris provides a viable option for individuals to treat and prevent deep vein thrombosis without being embarrassed or restricted by their choice of clothing.When people think of compression stockings the first thing that pops into their mind is often an image of their grandmother struggling to put on thick white stockings before leaving the house. This misconception has long been a problem for people suffering from DVT because it has stopped many of them from seeking the proper treatment. The products Sigvaris offer prove that compression stockings can be both stylish and functional.
Stylish Compression Stockings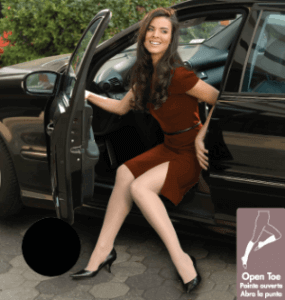 They offer specialized open-toe stockings for women to wear with high heels providing the support they need and the comfort they desire without sacrificing any of the quality benefits provided by the Sigvaris line.With great choices for both men and women Sigvaris offers options that are work appropriate and can match any outfit for an evening out with friends. They also provide custom support socks that will help your feet and calves.
Our support socks for men are the perfect solution for men suffering from any form of DVT. They are classy and stylish, providing benefits to the calves without forcing a change in style or clothing. With all the color choices available you can wear them with almost any pair of shoes and slacks.
Athletic Recovery Stockings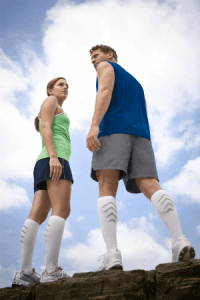 These stockings are not only good looking, but also provide a functionality that is undeniable. Our certified fitter, Natalie Gilman, works with each patient to ensure that the stockings prescribed are custom fit to the size and shape of the individual's feet and legs. This means that runners do not have to worry about their stockings restricting circulation to their calves and feet.
Since our process requires each pair of stockings to be custom ordered it does take us two days to receive them once the initial measurements have been taken; however, you will quickly find that the wait is worth it when you are able to run with a freedom and support that can only be offered by custom fit products. The additional benefit to having custom compression stockings is the potential performance enhancements acquired through the better support and protection they provide
.
---
**Update (3/31/12): The 10% off promotion ended on March 31st at 11:59PM.