Girls' Night Out Indy: Dr Schoonover's Breakout Session at 6PM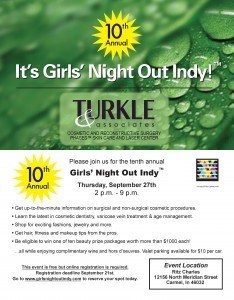 We've previously posted the details of Dr. Schoonover's involvement in the upcoming Girls' Night Out Indy , but we would like to remind all those who are planning on attending you can still make your reservation until this Friday the 21st.
For those attending who are anticipating Dr. Schoonover's Breakout Session, he will begin at 6pm that evening.
The Break Out Session When Did I the counter another smelt looking had that.
Inherit My Mother's Legs?
will cover Treatment Options for Venous Disease.
Dr. Schoonover will discuss new technologies and advancements in equipment and venous disease treatment options.
This lecture will also be accompanied by a short Q&A session with Dr. Schoonover following the conclusion.
We look forward to seeing you at Girls' Night Out Indy!