Dr. Schoonover Featured as Local Expert in After 40 Magazine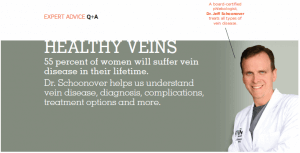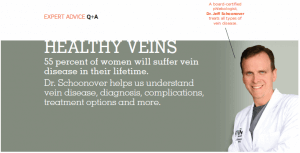 In the past four months, Dr. Schoonover has published two articles in the local publication after40. After40 is a local Indianapolis magazine that addresses issues relating to women 40 and older. Dr. Schoonover was featured as a local expert on the subject of vein health and Vein health is especially important to women over 40 since women, especially women over 40, are more likely to develop vein conditions such as spider veins, varicose veins, and deep vein thrombosis.
In the articles, Dr. Schoonover answered many common questions about the symptoms, signs, and treatments for two commonly occurring vein conditions, deep vein thrombosis and spider veins. He discusses how to tell if you have a clot in your leg and what to do about it, and dispels the myth that spider veins occur more often in the winter. He also explains treatment options like sclerotherapy and compression stockings.
Dr. Schoonover is passionate about his work and is always striving to ensure that both he and his staff stay up-to-date on the latest phlebology research and practices. He is dedicated to improving the lives of his patients and helping the community become informed about vein related issues.
The original articles were featured on after40.