Nathan Watson Gains his Registered Vascular Technologist (RVT) Credential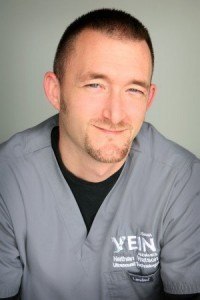 Committed to Professional Growth
As a vascular sonographer, Nathan just finished the second component of testing for his RVT credential. This includes in-depth testing for Vascular Technology and previous testing for Sonography Principles and Instrumentation (SPI). The process to successfully qualify for membership in the ARDMS (American Registry for Diagnostic Medical Sonography) as an RVT is long, and Nathan spent many nights studying to prepare for these tests. We want to take the time to acknowledge his efforts and make sure everyone is aware of the hard work he has put into continuing his professional training.Nathan Watson has been with Indiana Vein Specialists since it opened, joining us from a diverse background that included serving in the Army and working at the VA Medical Center in Louisville, Kentucky. He is a highly regarded member of the team and his passion for the job has brought him to the threshold of furthering his professional credentials in order to best serve all of our patients.
When you see Nathan in the office, take a moment and congratulate him on this outstanding achievement!
What does it mean to be an RVT?
One of the biggest questions we get at the office is "what do all these initials mean?" As part of our broader commitment to quality venous care, both Dr. Schoonover and Nathan are active members of the American Registry For Diagnostic Medical Sonography (Site: www.ardms.org). The tests taken and the information studied to gain membership into the ARDMS ensures that those who take it are current on the latest accepted practices in diagnosing venous medical conditions through the use of sonography. Acquiring this credential allows us to expand our knowledge and skills in order to ensure that we are providing our patients with the best care available.
If you have more questions about what it means to be an RVT please feel free to send us a note or give us a call.