Indiana Vein Specialists Welcome You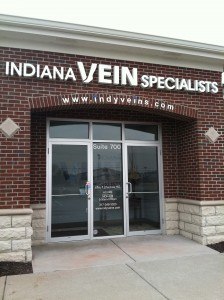 Dr. Jeffery Schoonover recently opened Indiana Vein Specialists, a medical practice committed to the non-surgical treatment of varicose vein disease and related disorders. Dr. Schoonover graduated from Michigan Technological University and received his medical degree from the Michigan State University College of Human Medicine. He was chief resident for the Family Physicians Association at Flower Hospital and is Board-Certified in both family practice and phlebology. Before launching Indiana Vein Specialists, Dr. Schoonover was the regional medical director and staff physician at one of the largest vein clinics in the U.S. He also previously practiced family medicine in Yorktown, Indiana and spent four years in the United States Air Force, where he achieved the rank of Major.
Pain in the legs, restless leg syndrome, ankle swelling, muscle cramping, heaviness in the legs and itching can all be signs of vein disease. The symptoms may temporarily improve with leg elevation, pain meds or compression socks but they typically recur and can cause other significant health problems like sores and poor circulation. Heredity can play a role in varicose and spider veins as can pregnancy, hormonal changes or obesity. Up to 55 percent of women and 45 percent of men have some form of vein disease.
Indiana Vein Specialists offers state of the art vein treatment for those who suffer the pain and embarrassment of varicose veins and who do not want vein surgery. Dr. Schoonover says that unfortunately many people do not seek vein disease treatment or delay it for five to ten years. Today there are many corrective treatment options available that do not involve surgery and hospitalization. "Until recently, surgical vein stripping was the standard treatment for varicose veins," said Dr. Schoonover. "Now we use Endovenous laser treatment, a minimally invasive procedure done in the office." During this state-of-the art treatment ultrasound is used to guide a fiber optic laser catheter into the affected vein, which then heats and seals it. Once the vein is closed, blood reroutes to healthy veins. Most people can return to their normal activity the next day. Sclerotherapy is another type of treatment that can be performed for cosmetic or therapeutic reasons.
If you have symptoms of varicose veins, we hope you will call upon Indiana Vein Specialists for more information about vein disease treatment. To learn more about Indiana Vein Specialists, visit our website or to schedule a consultation, call 317-348-3023.