August Monthly Newsletter: Back to School Varicose Vein Update from Indiana Vein Specialists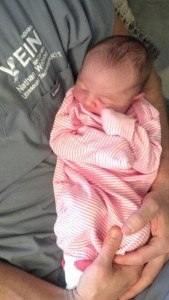 Congratulations to Nathan Watson, our RVT.
He and his wife welcomed Brynna Rose to the world on
Tuesday, August 28th.
Mom, baby, dad and big sister Kat are all doing great!
Back to School
Now that the kids are back in school, take some time for yourself and have those varicose and spider veins treated. With the weather (hopefully!) getting cooler, this is a great time of year for treatment. Another important consideration is your insurance. If you have a policy that covers treatment, you want to be sure to schedule before the end of your current deductible year so you can reduce your out-of-pocket expense. Natalie also wants you to know that pre-authorizations for procedures do typically expire with the calendar year. Being treated won't interfere with those after-school activities; most of our patients are able to return to their normal routine the day of/after treatment. To
schedule a consultation
, call our office today at 317-348-3023..
Follow-up Visits are Important!
After we complete your varicose vein treatment, it is important that you return to us for annual follow-up visits. Due to the chronic nature of venous disease, we recommend regular follow-up visits after every type of treatment.
New Surface Laser Treatment
We are pleased to announce that we will be providing laser treatment for small surface veins. This technology can be used on these smaller veins that appear on the legs (that may be too small for sclerotherapy), as well as facial veins. The treatment is quick and highly effective. If you have questions about this new option, please call our office today at 317-348-3023 to schedule an appointment.
Please Help Us with Your Testimonials
We are so grateful for your kudos, notes and comments. Can you please include your testimonial on our Web site? It is so helpful for prospective patients to read about the actual experiences of our patients. It only takes a couple of minutes. To submit a testimonial for our Web site, just use the
Share Your Testimonial
form on our site. Thank you.
Fashion Night Out
Dr. Schoonover and Indiana Vein Specialists are proud to sponsor the upcoming
Fashion Night Out
at The Fashion Mall at Keystone Crossing on Thursday, September 6th, from 6-9pm. Join us for a free and fun night of fashion, beauty, food sampling, prize giveaways and shopping!
Save the Date for Family Fun & Health Fair
Dr. Schoonover and Indiana Vein Specialists, along with our neighbors, Simply Dental and ProWellness Chiropractic, will host a Family Fun & Health Fair on Saturday, October 6th, from noon to 3 p.m. in our parking lot. Watch for all the details in our next newsletter but mark your calendar now.
You Should Be in Pictures
Indiana Vein Specialists will begin taping our patients' video testimonials for inclusion on our Web site later this year. If you would be willing to participate in this project, let us know that on the Contact Us form on our Web site. We will be in touch with you when we begin scheduling taping sessions. Thanks!
Last Chance to Register for Girls' Night Out Indy
Indiana Vein Specialists is proud to be a Supporting Sponsor of the 10th Annual Girls' Night Out Indy. This is a day of fashion, health, beauty, shopping and fun held at the Ritz Charles in Carmel. It is the largest event of its kind for women in central Indiana. You won't want to miss Dr. Schoonover's breakout session at 6 p.m. on "When Did I Inherit My Mother's Legs?" There is no charge to attend this event. If you have not registered online registration will close soon so don't miss the opportunity!