Try Compression Socks this Summer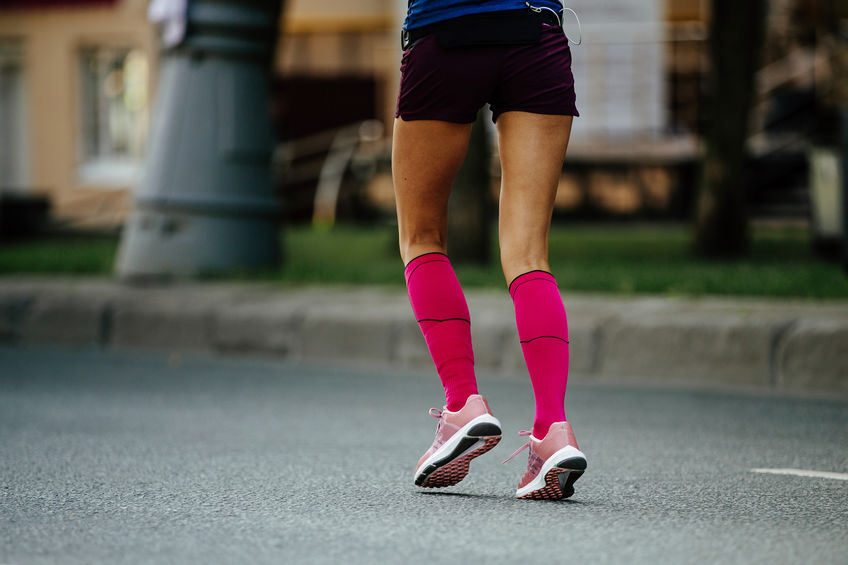 Do your legs a favor this summer and check out our compression store! We offer a variety of stockings, socks, and sleeves for both men and women. Our store has a range of colors and styles to match your personal tastes. Whether you need sports socks, dress socks, panty hose, or medical grade stockings, we can fit you properly!
Benefits of Compression Therapy
Whether you're an athlete, a traveler, pregnant, or you suffer from leg swelling, varicose veins, or spider veins, compression therapy can help you!
If you have attended any athletic events recently, you probably noticed many people were wearing socks or sleeves. This is because sports compression socks improve recovery after exercise and can reduce muscle pain.
Prolonged sitting or standing while traveling can lead to swelling, leg pain, and a risk of serious conditions such as blood clots or deep vein thrombosis (DVT). Fortunately, compression socks can reduce your swelling, increase your comfort level, and reduce your risk for those serious conditions.
Pregnancy sometimes comes with unfortunate side effects like leg swelling, varicose veins, and spider veins. This is because as the baby and uterus grow, your blood supply and pressure increase in your legs. Compression stockings can reduce these not-so-fun side effects by reducing the pressure in your legs.
Medical grade compression stockings have long been used as a conservative measure to treat leg swelling, varicose veins, and spider veins. These stockings help patients with venous and lymphatic by reducing inflammation, pain, and swelling.
Indy Veins Compression Store
Our store is easy to use and just a click away from our website. We carry the best brands of Medi compression legwear, from Mediven and Duomed to CircAid and CEP. Medi has been a global leader in medical compression manufacturing for over 80 years, and CEP Compression is the industry standard for active compression apparel.
Here's a recent review of our compression store:
"I used a different store to order my first pair of stockings, but they wore out on my first day of work. When I used the Indy Veins compression store, I was able to get advice on which ones to buy. And they worked great! I got the right stockings the first time I ordered with Indy, and it was the expert advice that made all the difference. Ordered easily, paid online, and they arrived quickly. Overall a great experience!" – M. H.
We Can Help
Our store has information on how to measure your leg to get the right size stocking and has tutorials on how to apply compression stockings. If you need any help, our team is ready to help. You can contact us by phone at 317-348-3020 or by using the store contact us form.